PELAJAR PTPM TERIMA ANUGERAH DALAM MAJLIS PERSADA KENCANA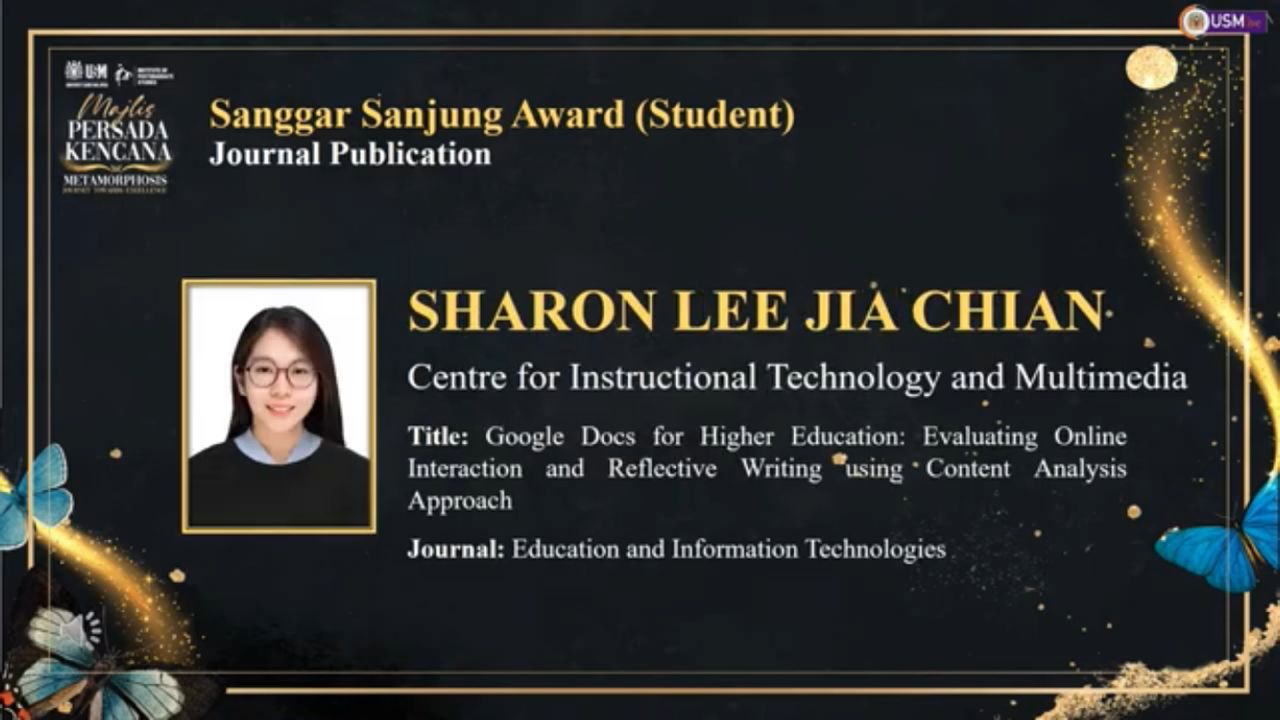 Majlis Persada Kencana 2023 anjuran Institut Pengajian Siswazah (IPS), Universiti Sains Malaysia bertemakan 'Metamorphosis Journey Towards Excellence' telah diadakan pada 7 Mac 2023 secara langsung di platform Youtube dan Facebook rasmi USM. Majlis ini bertujuan untuk memberikan penghargaan dan pengiktirafan kepada pelajar-pelajar cemerlang Ijazah Tinggi dalam bidang akademik, penyelidikan, penerbitan dan aktiviti kokurikulum.
Dalam majlis ini, pelajar seliaan Dr. Siti Nazleen Abdul Rabu (Penyelia Utama) dan Dr. Nurullizam Jamiat (Penyelia Bersama) iaitu SAUDARI SHARON LEE JIA CHIAN, pelajar Doktor Falsafah PTPM dalam bidang Strategi Pengajaran telah menerima Anugerah Sanggar Sanjung (Pelajar) bagi Kategori Penerbian Jurnal yang bertajuk 'Google Docs for Higher Education: Evaluating Online Interaction and Reflective Writing using Content Analysis Approach'; Journal: 'Education and Information Technologies'.
Seluruh warga PTPM sangat berbangga dengan pencapaian pelajar dan turut merakamkan setinggi-tinggi ucapan tahniah dan syabas kepada Saudari Sharon. Menerusi kejayaan ini, diharapkan ia dapat memberikan suntikan semangat dan secara tidak langsung mampu meningkatkan motivasi dan keupayaan diri para pelajar untuk terus kekal relevan, HEBAT dan berdaya saing dalam bidang yang diceburi.
Teks: Mu'azzah Ismail