PTPM AT THE FOREFRONT OF RESEARCH: WORLD DIGITAL ECONOMY & TECHNOLOGY SUMMIT 2022
USM, 28th and 29th of June 2022 – The Executive team from PTPM, comprising of the Director, Professor Dr. Wan Ahmad Jaafar Wan Yahaya, both Deputies, Ts. Dr. Irwan Mahazir and Ts. Dr. Mageswaran Sanmugam; were invited to attend the WORLD DIGITAL ECONOMY & TECHNOLOGY SUMMIT 2022 "Creating Opportunities, Endless Possibilities" 28 & 29 June 2022 at The Majestic Hotel Kuala Lumpur, MALAYSIA.
The World Digital Economy & Technology Summit is a high-level forum bringing together key stakeholders in the Digital Economy to discuss key trends, strategic challenges, major issues and risks impacting on our digital future. It is a meeting of minds from technologists, digital entrepreneurs, corporate executives, policy advocates, digital natives, health specialists, educationists, and civil society to take stock of the future digital economy and to be future ready.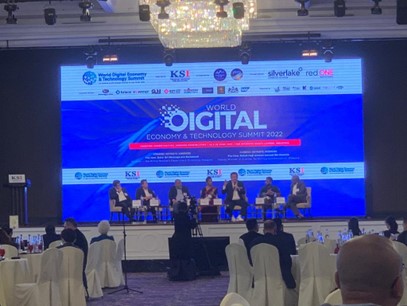 The summit was attended by several notable VIP's
Dato' Wei Chuan Beng, Chairman, Organising Committee / Senior Executive Director, KSI Strategic Institute for Asia Pacific, Malaysia / Member, National Digital Economy & 4IR Council & Former Chairman, PIKOM
Andrew Weir, MBE, Chairman, Pacific Basin Economic Council (PBEC), Hong Kong, Chairman, KPMG China and Hong Kong
Mr N. R. Narayana Murthy Founder and Chairman emeritus, Infosys, India Moderator
Tan Sri Michael Yeoh President, KSI Strategic Institute for Asia Pacific, Malaysia
E. Pascal Lamy, President, Paris Peace Forum / Former Director-General, World Trade Organization
David Wu,Founder of Taucoin / Futurist and Investor
Magnus Ekbom, Group Chief Strategy Officer & Co-Founder of Lazada and Chief Executive Officer, Lazada Malaysia
Tan Sri Abdul Wahid Omar, Chairman, ECKL Advisory Council & Chairman, Bursa Malaysia Bhd / Former Minister in the Prime Minister's Department, Malaysia
With the Opening Keynote Address By; The Hon. Dato' Sri Mustapa bin Mohamed Minister in the Prime Minister's Department (Economy), Malaysia.
The Summit had 3 tracks - Policy, Business and Transformation & Technology Tracks. Ministerial Roundtables, Plenary Sessions and Workshops will be part of the Programme. The thought-provoking programme will be reviewed by a high powered international advisory council.
ASEAN Ministerial Roundtable - Digital ASEAN Initiative
The Future of Work in the Digital Economy - Technology, Talent & Training
Go Big with Digital: the 4Ps
New business opportunities in the digital economy - what's next big thing in online business and ecommerce
Tech trends shaping the new digital world: AI, blockchain, robotics, VR/AR
Digital finance and crypto
Keynote conversations- face to face.
Smart cities and digitalization.
Closing the digital divide: enhancing digital inclusion.
Sustainability and digitalization: how digital tech can support sustainable development
Cyber security: safeguarding the digital economy, preventing cybercrimes.