REDESIGNING NEW DIGITAL STANDARD OF COMPETENCIES FOR MALAYSIAN EDUCATORS – CONFERENCE KEYNOTE SPEECH BY PTPM DIRECTOR, PROFESSOR DR. WAN AHMAD JAAFAR WAN YAHAYA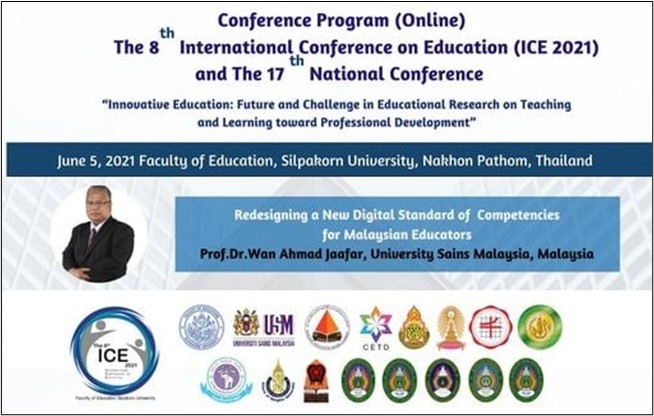 USM, 5th June 2021 – Professor Dr. Wan Ahmad Jaafar Wan Yahaya, Director of Centre for Instructional Technology and Multimedia (PTPM), Keynote Speaker at the 8th International Conference on Education (ICE2021), had successfully delivered a topic on education entitled "Redesigning a New Digital Standard of Competencies for Malaysian Educators". ICE2021 was organised by Faculty of Education, Silpakorn University, Nakhon Pathom, Thailand on June 5, 2021.
The theme for ICE2021 is "Innovative Education: Future and Challenge in Educational Research on Teaching and Learning toward Professional Development". ICE2021 aimed to allow researchers and practitioners to explore solutions to emerging challenges that the world is now facing and identify new ideas for quality improvement in the field of education in the future.
In his speech at the conference, Professor Dr. Wan Ahmad Jaafar explained that almost all education institutions across the world are facing great challenges during the Covid19 pandemic. Therefore, an urgent need is required to establish New Digital Standard of Competencies for educators to regain the confidence from the public on education. A new standard is needed to reinvent and innovate, improve the contents and the way education is delivered.
Assistant Professor Dr. Maream Nillapun, Dean of Faculty of Education, Silpakorn University cum Chairperson of a National and International Conference for Research Presentation had officiated and addressed her speeches in the conference as well. The conference was attended by more than 80 participants from the world. All research presentation sessions were conducted online. PTPM was also Co-Host for ICE2021