MEMBELAJARI KEMAHIRAN "AI, VR, AR AND GAMIFICATION FOR EDUCATION" MELALUI BENGKEL PTPM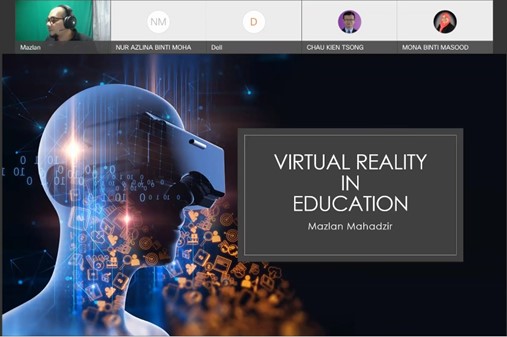 2 Ogos 2021 – Pusat Teknologi Pengajaran dan Multimedia (PTPM) telah menonjolkan kepakaran dalam teknologi Artificial Intelligence (AI), Virtual Reality (VR), Augmented Reality (AR) dan Gamifikasi untuk pendidikan. Pada 2 Ogos 2021, Bengkel "AI, VR, AR and Gamification for Education" telah dianjurkan oleh PTPM untuk memindahkan pengetahuan dan kemahiran teknologi digital canggih tersebut kepada pensyarah dan pelajar. Seramai 63 peserta dari seluruh negara telah menyertai Bengkel yang diadakan secara dalam talian, bermula dari pukul 9.00 pagi hingga 5.00 petang.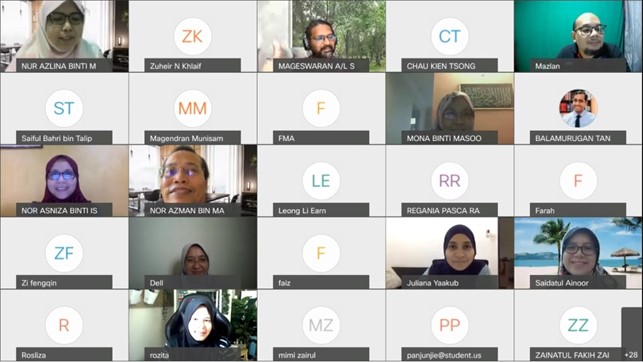 Bengkel tersebut adalah dibiayai oleh The Journal of Artificial Intelligence (AIJ) (https://www.journals.elsevier.com/artificial-intelligence). AIJ telah menaja Geran Bantuan untuk Bengkel PTPM tersebut yang diketuai oleh Ts. Dr. Nur Azlina Mohamed Mokmin, pensyarah kanan PTPM. Ia dimulakan dengan ceramah pembelajaran dan pengajaran yang disampaikan oleh Ts. Dr. Nur Azlina, diikuti oleh ceramah dan silibus pensyarah seperti berikut:
Pengerusi Panel: Ts. Dr. Nur Azlina Mohamed Mokmin, PTPM, USM
Dr. Marsyita Binti Hanafi, Engineering Faculty, Universiti Putra Malaysia (Tajuk: Artifical Intelligence in Education)
En. Mazlan Bin Mahadzir, Faculty of Creative Multimedia, Multimedia University (Tajuk: Virtual Reality in Education)
Cik Anita Yustisia, PT Assemblr Indonesia (Tajuk: AR in Education)
Ts. Dr. Mageswaran Sanmugam, PTPM, USM (Tajuk: Gamification in Education)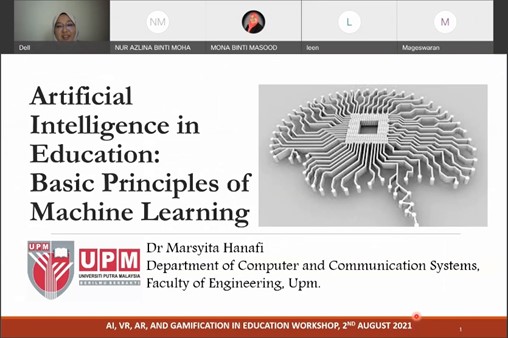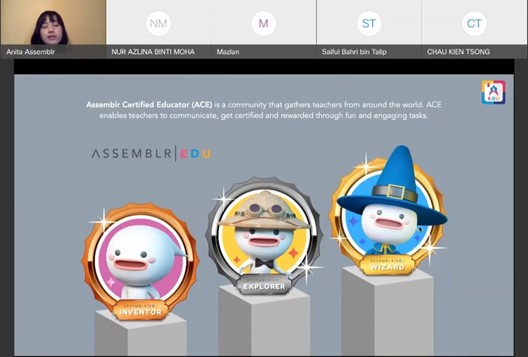 Bengkel ini bertujuan untuk memberi pengetahuan kepada peserta tentang bagaimana Virtual Reality, Augmented Reality, Artificial Intelligence, dan Gamification berfungsi dan bagaimana produk yang relevan dapat dikembangkan. Dr. Marsyita memulakan perbincangan mengenai AI, kemahiran yang diperlukan untuk mengembangkan AI, dan algorithm yang terlibat. En. Mazlan, Cik Anita, dan seterusnya Ts. Dr Mageswaran melanjutkan diskusi dengan membincangkan konsep sebenar VR, AR, dan gamification dalam industri semasa agar para peserta mendapat gambaran yang tepat mengenai teknologi tercanggih masa ini.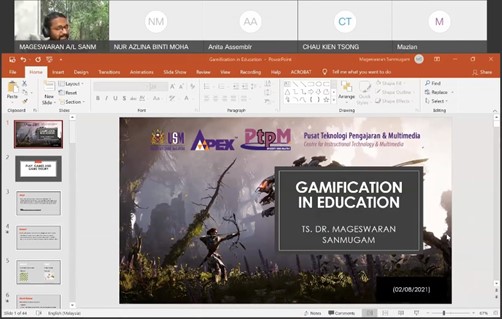 Menurut Ts. Dr. Nur Azlina, Bengkel tersebut berjaya menggalakkan pelajar PTPM membiasakan penggunaan teknologi canggih AI, VR, AR, dan gamifikasi dalam bidang pendidikan. Ts. Dr Nur Azlina menambah lagi, PTPM sentiasa memperkemas program latihan berteknologi tinggi supaya pelajar-pelajar PTPM terus menerima manfaat maksimum. Secara keseluruhannya, Bengkel tersebut telah mendapat sambutan yang hangat dari semua pihak.