PERKASA WARGA PTPM DENGAN AI PENDIDIKAN MELALUI BENGKEL PTPM "AI AND TOOLS FOR EDUCATION"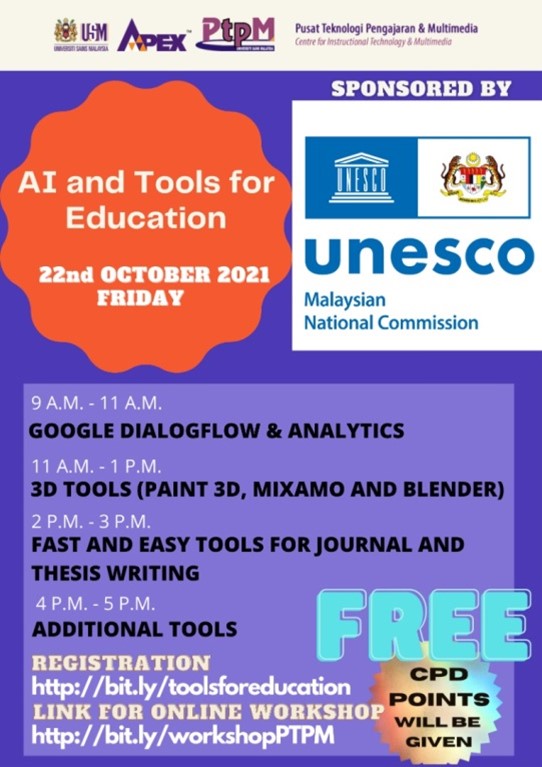 22 Oktober 2021 – Pusat Teknologi Pengajaran dan Multimedia (PTPM) telah memaparkan usaha untuk mempergiatkan pembelajaran teknologi Artificial Intelligence (AI) untuk pendidikan. Pada 22 Oktober 2021, Bengkel "AI and Tools for Education" telah dianjurkan oleh PTPM untuk memindahkan pengetahuan dan kemahiran teknologi AI dan peralatan yang berkaitan dengannya kepada pelajar dan pensyarah. Seramai 29 orang peserta dalam dan luar USM dari seluruh negara telah menyertai Bengkel tersebut, yang diadakan secara dalam talian, bermula dari pukul 9.00 pagi hingga 5.00 petang.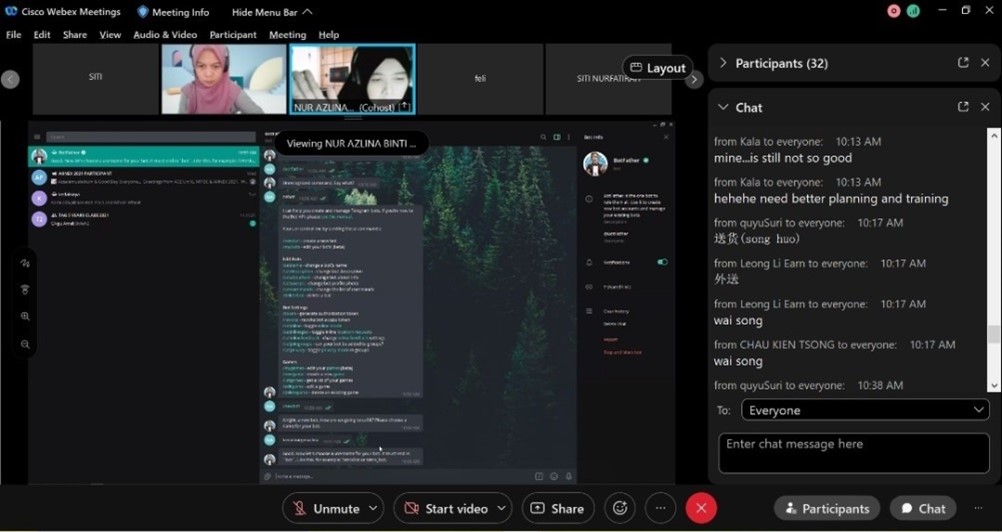 Bengkel "AI and Tools for Education" adalah suatu aktiviti khidmat masyarakat yang dibiayai oleh Geran Sumbangan SKUM (GSS) Tahun 2021 Fasa 2 yang disumbangkan oleh Suruhanjaya Kebangsaan UNESCO Malaysia (SKUM). Bengkel tersebut diketuai oleh Ts. Dr. Nur Azlina Mohamed Mokmin, pensyarah kanan PTPM. Ia dimulakan dengan ceramah pembelajaran dan pengajaran bengkel yang disampaikan oleh Ts. Dr. Nur Azlina. Silibus Bengkel tersebut adalah seperti berikut:
Google Dialogflow dan Analytics
Peralatan 3D termasuk Paint 3D, Mixamo, dan Blender
Fast and Easy Tools for Journal and Thesis Writing
Bengkel "AI and Tools for Education" diakhiri dengan pembentangan Dr. Siti Zuraidah Md Osman, Pensyarah Kanan dari Pusat Pengajian Ilmu Pendidikan (PPIP) yang bertajuk "Additional Tools". Pembentangan ini juga merupakan perkongsian pengalaman dari alumni PTPM.
Menurut Ts. Dr. Nur Azlina, Bengkel tersebut juga merupakan satu usaha PTPM untuk menggalakkan pensyarah dan pelajar PTPM membiasakan penggunaan teknologi AI dalam bidang pendidikan. Ts. Dr Nur Azlina berkata lagi, PTPM sentiasa memperkemas program latihan berteknologi tinggi supaya pensyarah dan pelajar PTPM terus menerima manfaat maksimum. Secara keseluruhannya, Bengkel tersebut mendapat sambutan yang baik dari semua pihak.