PTPM PHD STUDENTS SHINED IN INTERNATIONAL CONFEFENCE ORGANISED BY PRINCE OF SONGKLA UNIVERSITY, THAILAND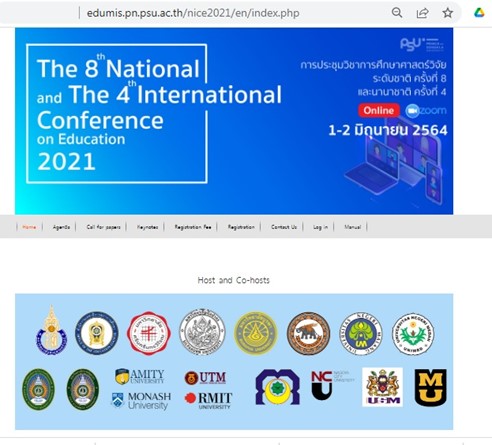 2 June 2021 – Centre for Instructional Technology and Multimedia (PTPM) has demonstrated its capability in producing quality research students in the field of instructional technology. In 8th National and 4th International Conference on Education (NICE2021) where PTPM was the co-host of this conference, one of PTPM PhD students, Kamaludeen Samaila won Best Paper Award for his paper entitled "Enhancing Student's Engagement and ICT Skills through Modified Flipped Classroom Model." Kamaludeen Samaila is supervised by Prof. Dr. Mona Masood of PTPM.
NICE2021 was organized by the Faculty of Education, Prince of Songkla University (PSU), Thailand on the 1st and 2nd of June 2021. In partnership with various prestigious agencies in Thailand and other countries, the theme of this conference is "Innovative and Sustainable Education in Times of Challenges". Dr. Nurullizam Jamiat is the coordinator for this conference, and the conference was convened entirely online. This conference is one of the MoU activities with PSU.
Research is always an essential mission in PTPM. PTPM strives to promote research and innovation of academicians and students to the public. This is because PTPM believes that research is one of the channels capable of building relationship, collaboration and networking not only between the researchers, but also amongst institution and countries. With this in mind, another research paper presenter from PTPM was Abdullahi Abubakar Yunusa. His presentation title is "The Moderating Effects of Gender and Age on Students' Satisfaction and Learning Within an E-Learning Environment in Nigeria', supervised by Prof. Dr. Irfan Naufal Umar. Besides, seven PhD students and one MA students had also attended NICE2021 as listeners of the conference.