WORLD-RENOWNED EXPERT PROF. DR. ANGELO CANGELOSI DELIVERED TALK ON ROBOTICS AT RESEARCH SEMINAR IN PTPM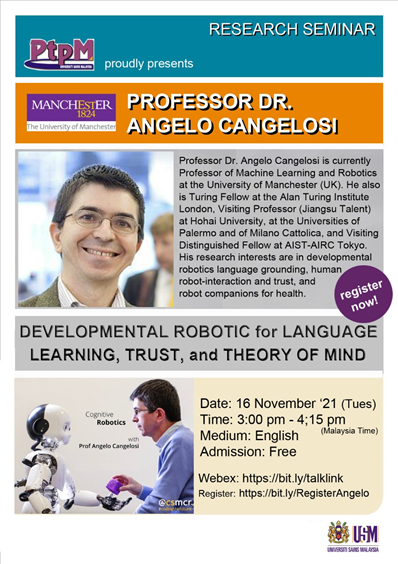 17 November 2021 – Centre for Instructional Technology and Multimedia (PTPM) had hosted a world-renown robotic expert, Professor Dr. Angelo Cangelosi's research talk on 16 November 2021, where he delivered a presentation on the topic of Developmental Robotics in the context of Language Learning, Trust and Theory of Mind. The seminar is an effort by the PTPM Research Division to further encourage quality research activities among USM academicians and students. The free-of-charge seminar also aims to enable international scholars to share their strategies and experiences in research.
Professor Dr. Angelo Cangelosi's presentation, entitled "Developmental Robotics for Language Learning, Trust and Theory of Mind" is part of the Research Seminar in PTPM. Prof Dr. Angelo currently is Professor of Machine Learning and Robotics at the University of Manchester, United Kingdom. He also is Turing Fellow at the Alan Turing Institute London. His research interests are in developmental robotics, language grounding, human robot-interaction and trust, and robot companions for health and social care. Previously Prof Dr. Angelo was Professor of Artificial Intelligence and Cognition, and founding director role, at the Centre for Robotics and Neural Systems at Plymouth University (UK). Prof Angelo's main research expertise is on language grounding and embodiment in humanoid robots, developmental robotics, human-robot interaction, and on the application of neuromorphic systems for robot learning.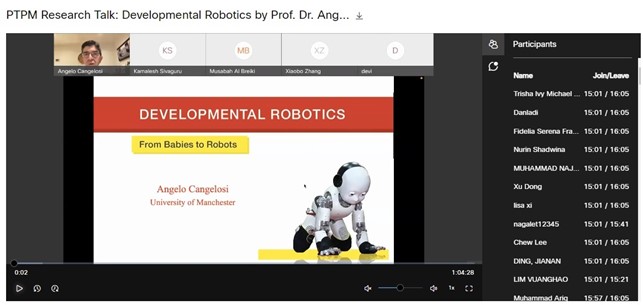 Overall there were 221 students and academicians registered for this seminar. It is believed that this seminar has successfully stimulated academicians and students' interest in Robotics and Language Learning.