PTPM BRINGS SPECIALIZED RESEARCH TO GENERAL AUDIENCES: STRATEGIES AND EXPERIENCES IN PUBLISHING IN Q1 AND 2 JOURNALS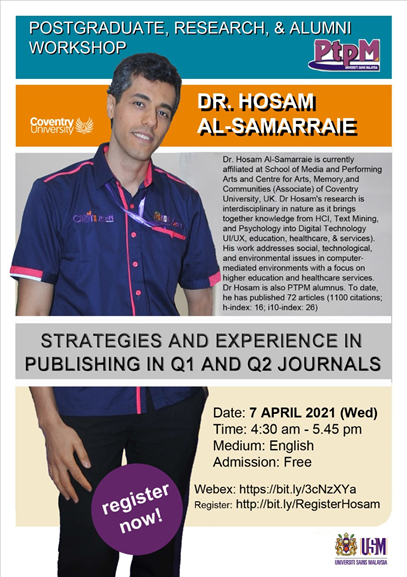 7 April 2021 – Centre for Instructional Technology and Multimedia (PTPM) had organized a world-renown expert in instructional technology, Dr. Hosam Al-Samarraie's research talk on 7 April 2021, where he delivered a presentation on the topic of publication strategies in high impact Journals. Dr. Hosam's title was "Strategies and Experiences in Publishing in Q1 and 2 Journals". The seminar is part of the PTPM's efforts to further encourage quality research activities among USM academicians and students. The free-of-charge seminar aims to enable PTPM Alumni and international scholars to share their strategies and experiences in writing research articles for Journals Q1 and Q2 as well.
Dr. Hosam Al-Samarraie is affiliated with School of Media and Performing Arts, Coventry University, United Kingdom, where he teaches and conducts research around Digital Technologies. He is a self-motivated researcher and an independent thinker. His research is interdisciplinary in nature as it brings together knowledge from Human-Computer Interaction, Text Mining, and Psychology into Digital Technology (e.g., UI/UX, education, healthcare, and services) with emphasis on exploring, understanding, comparing, and predicting individuals' use of digital technology in different contexts. He is currently investigating various cultural and social aspects of technology utilization and their relation to user interaction and behavioral changes. His work addresses social, technological, and environmental issues in computer‐mediated environments, with a focus on higher education and healthcare services.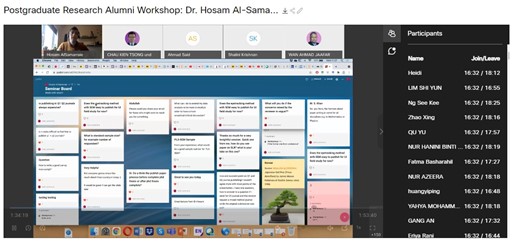 Overall, the talk had given encouragement to all the participants to move forward in research. It is believed that the seminar has offered certain impact on the research of the academicians and students throughout USM campus.