TALK ON CAREERS OPPORTUNITIES FOR INSTRUCTIONAL DESIGNERS BY ALUMNUS OF PTPM IN INDUSTRY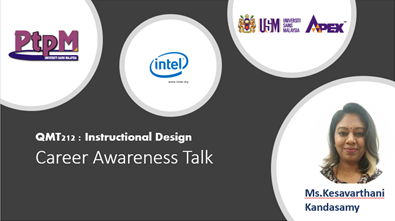 USM, 23rd January 2021 – A virtual talk was conducted by Pusat Teknologi Pengajaran dan Multimedia (PTPM), Universiti Sains Malaysia, with Intel Malaysia's Ms. Kesavarthani Kandasamy. Ms. Kesa, an alumnus from PTPM, is currently a User Experience Designer with Intel Penang with vast experience in instructional design. The career awareness talk conducted through Webex was designed as a sharing session with 80 undergraduates from the Bachelor of Education (TESOL) program who are currently taking the QMT212 Instructional Design course offered by PTPM. The talk's goal is to build awareness around the broad array of career opportunities in areas related to instructional design outside of the education platform such as content designer, developer, user experience designer, etc.
The coordinator of QMT212 Instructional Design course is Ts. Dr. Jeya Amantha Kumar from PTPM. The participants of this session are 'Tesolians' minoring in multimedia. The aim Dr. Jeya organized the sharing session was to provide her students with a deeper understanding of instructional design's importance and relevance in the educational and industrial context. While 'Tesolians' have the strength in language, having designing and technology skills will be essential in their future career path. According to Ms. Kesa, who is also a Tesolian, "it is important to embrace technology and use it independently to achieve one's learning goal." She added the importance of being an autonomous learner as this skill is undoubtfully critical in progressing in their career paths.
Overall, the virtual talk was a fruitful sharing session, and PTPM thanks Ms. Kesa for her valuable input in shaping the USM students' future instructional designers' minds.