STAR GOLDEN HEARTS AWARD 2020 - BENGKEL TEKNOLOGI SENIOR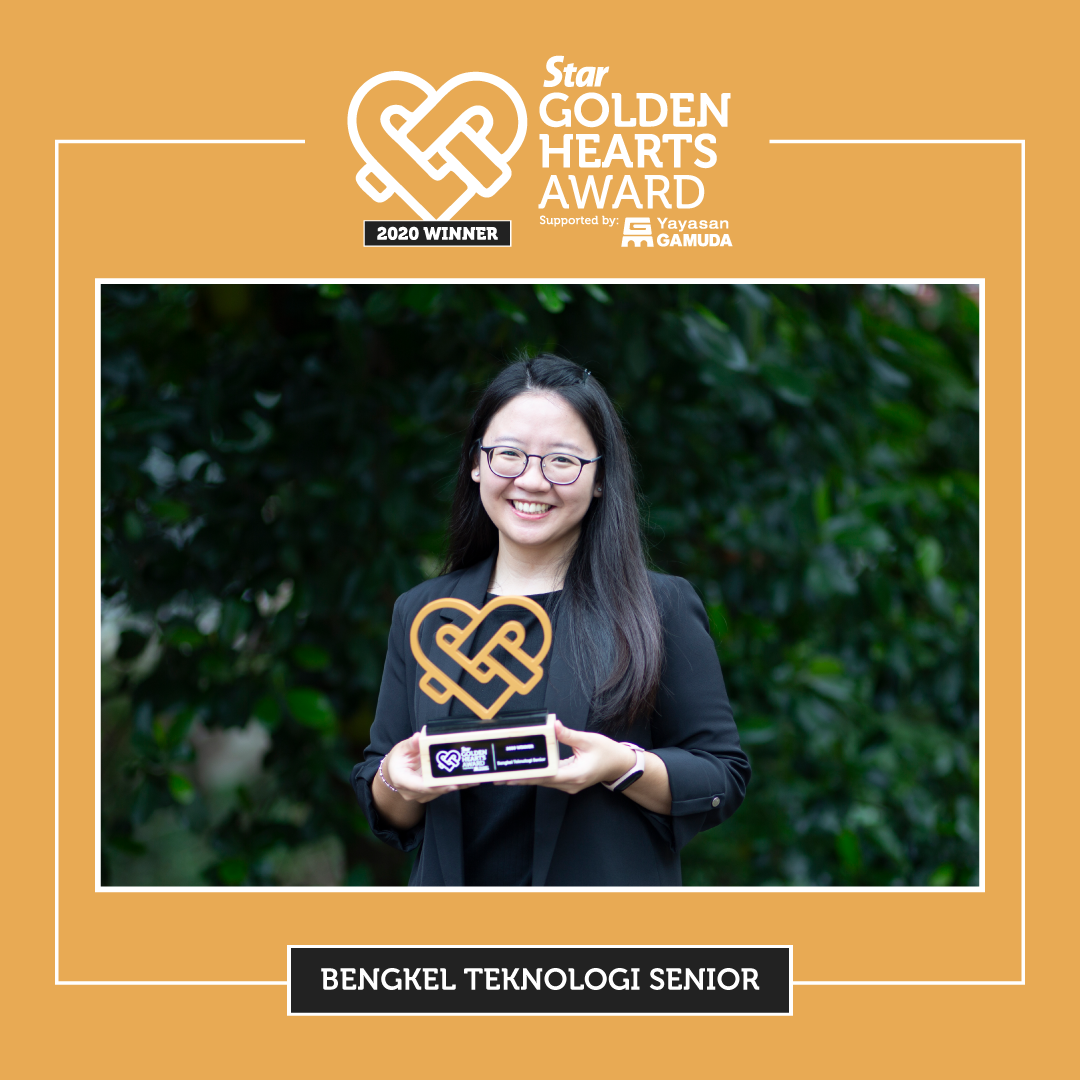 NEVER TOO OLD TO GAIN DIGITAL LITERACY
PETALING JAYA, 22 NOV: Two years ago, when Dr Tan Yun Yi returned to Malaysia after completing her studies in Hong Kong, she was devastated to see that cybercrime cases targeting senior citizens were on the rise.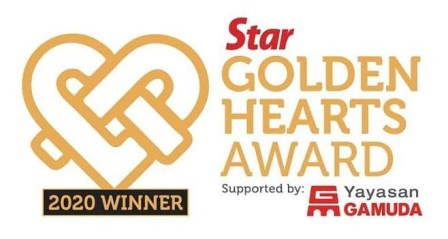 Deciding that something must be done to help them improve their digital literacy, she set up Bengkel Teknologi Senior in 2019 at the Centre for Instructional Technology and Multimedia, Universiti Sains Malaysia (USM), where she is a lecturer.
The two-day programme offered free technology classes to Malaysian seniors over the age of 55."We teach them the fundamentals of cybersecurity so they could be more cautious and aware of online scams and threats.
"They are also introduced to creative modules such as digital graphics, digital photography, video production and video editing, which as it turns out, they enjoyed the most."
"In addition, they are also exposed to the usage of mobile apps that could improve their social independence such as ride hailing, food ordering, online shopping, GPS navigation and medical apps," said the Kelantan-born Tan in an interview.
She said each programme was designed to have a maximum of 20 participants, and priority would be given to seniors from B40 families or those living alone or far from the younger generation.
Before setting up Bengkel Teknologi Senior, the 32-year-old started her involvement with the senior citizen community when she was pursuing her PhD studies in Hong Kong.
"I would visit nursing homes to keep the seniors company and talk to them. I also visited senior citizens living alone in public housing, " she said.
In one of her visits, Tan met a wheelchair-bound senior who lived alone and spent most of her time sitting in her living room, listening to the radio.
Although the woman was happy to meet Tan, she admitted that growing old meant losing the independence to do things on her own.
"She felt her days were very long and meaningless as she had to rely on social workers to send her food daily because she was unable to go out due to her weak legs.
"Sometimes, she also had to stay hungry a little longer when social workers were late due to unforeseen circumstances, " she related.
Tan shared with her the convenience of digital services and how it could help her to regain her independence.
"I told her that food could be delivered to her doorstep via food delivery apps and also e-hailing service.
"She looked very interested to learn more but told me that no one would have the patience to teach old folks like her, " said Tan.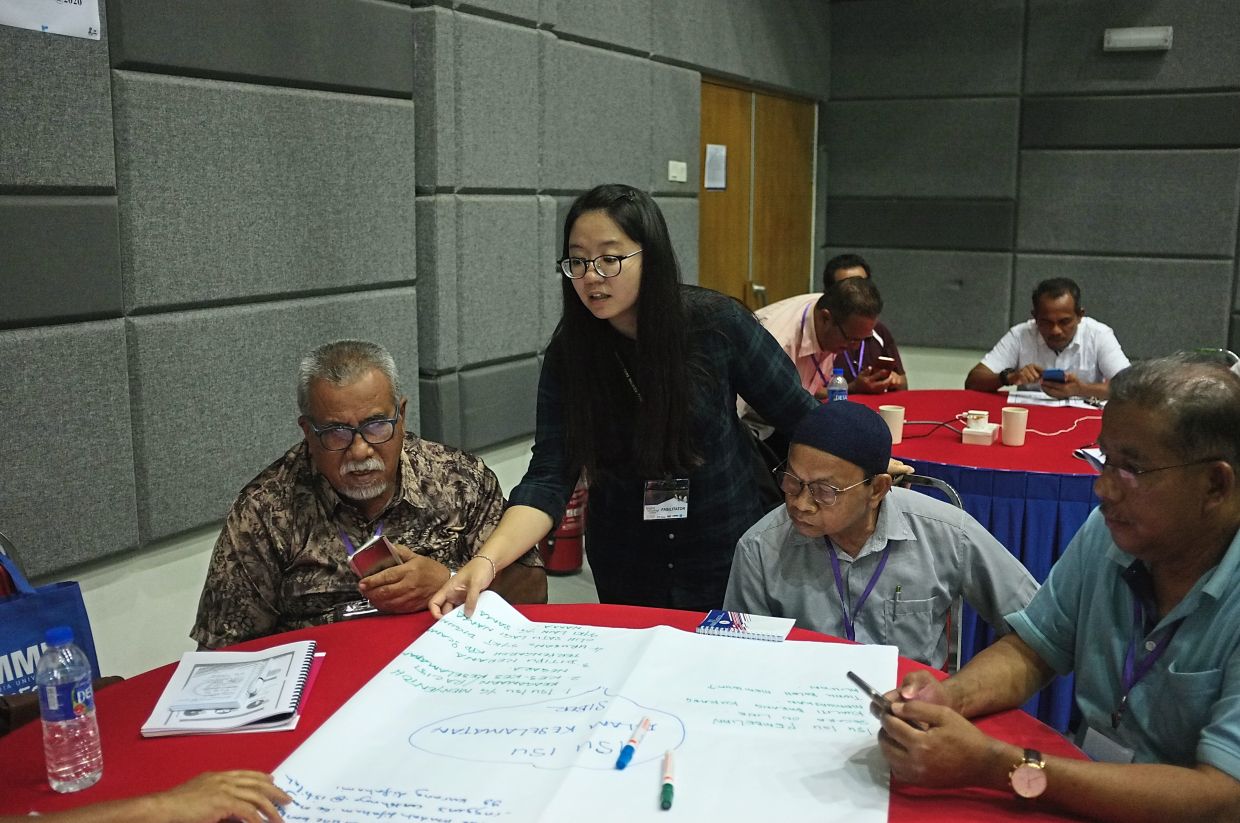 Crash course: Tan (standing) teaching senior citizens during a workshop in January at the Multimedia University in Johor.
That was when Tan realised that technology was something the younger generation took for granted and they had forgotten how seniors might be struggling to keep up.
After returning to Malaysia, Tan tried to launch her project by applying for grants and going for pitching sessions but failed.
"It did not stop me. If education is crucial for our first 20 years, what makes it less important for the next 20 years?" she asked.
All the stumbling blocks Tan had to overcome to see her project through has been worth it as she witnessed how it has helped and transformed the senior citizens.
"We saw how they changed from being fearful of using their own mobile devices to being able to make their first order on a food delivery app, " she said.
Some participants also learnt to use navigational apps like Waze, while several others even purchased a smartphone so that they could use it during the workshop.
"One participant told us she wanted to own a smartphone but could not get anyone to assist her as her own family members were not supportive.
"We were touched when she informed us that our project has made her dream come true, " said Tan.
Initially, the workshops were scheduled to be held once every two months as Tan and her project members planned to travel to every state to interact with the participants.
However, due to the Covid-19 pandemic, the workshop had to be restructured as its target beneficiaries were in the vulnerable and high-risk group.
To date, Tan said workshops had been conducted in Selangor, Johor and Kelantan.
Her next step is to set up an age-friendly technology learning lab at the centre in USM.
"With the lab that will also function as a one-stop centre, we will be able to provide more free learning sessions to more senior citizens, especially in the northern region, " she said.
Tan's vision is for a future where there will be no more seniors left behind in technology and digital literacy.
"Although we might not be able to reach out to every senior citizen, we hope that this project could be the starting point to inspire more people and organisations to help address digital ageism and digital divide, " she said.
For her efforts, Bengkel Teknologi Senior is recognised as one of the 10 winners of the Star Golden Hearts Award 2020, an annual award that celebrates everyday Malaysian unsung heroes.
Source: https://www.thestar.com.my/news/nation/2020/11/22/never-too-old-to-gain-digital-literacy
Please refer to the link below: