PTPM WINS THREE FRGS GRANTS FOR INSTRUCTIONAL TECHNOLOGY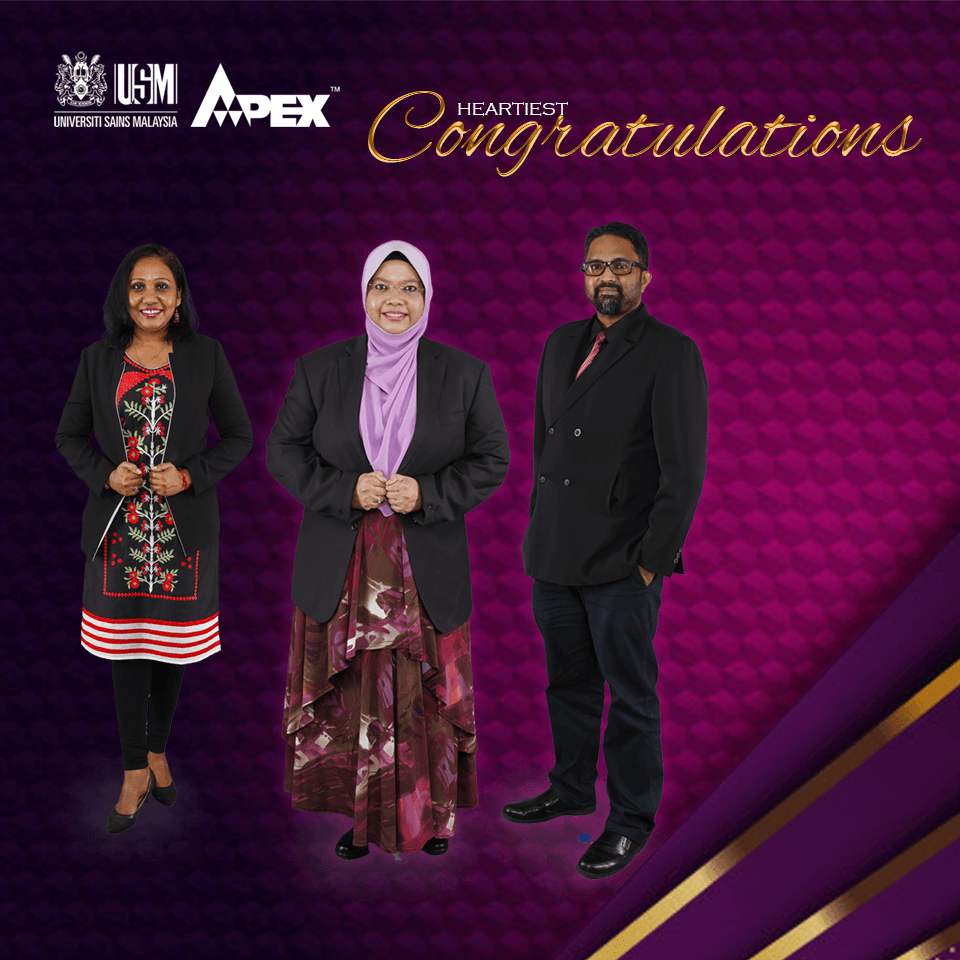 USM, 4 November 2020 – Three PTPM academic staff were among the winners of the FRGS grants released on 1 November 2020. They won a total grant of RM239,805 for their projects aimed at enhancing and promoting Instructional Technology in the field of Education. They are Dr. Siti Nazleen Binti Abdul Rabu, Dr. Jeya Amantha David Kumar, and Dr. Mageswaran Sanmugam.
Dr. Siti Nazleen Binti Abdul Rabu won the FRGS grant for her research grant entitled "Formulating a Framework for Computer-Mediated Communication (CMC) Environment based on the Types of Online Interaction and Behavioral Patterns with Visual Analytics in Promoting Students Reflection". The purpose of her research is to explore the potential correlation between types of online interaction and the quality or levels of students' reflection and further examine the data traces of collaborative writing behavior in the students' collaborative use of CMC environment using visual analytics tools. This research is an exploratory study that involves qualitative and quantitative data collection. Data will be collected from multiple sources of instruments including CMCs' interaction and reflection transcripts, interviews and behavioral log data traces. The proposed framework from this research can contribute useful findings to the scholarship of instructional technology in relating interaction and reflection in an online learning environment and ultimately inform action on pedagogical design.
Dr. Jeya Amantha David Kumar won the FRGS grant for her project entitled "Analysing the effects of anthropomorphism for emotional design in multimedia learning using emotional recognition systems". Designing, detecting, recognising, and creating emotional interaction has become a trend in human-centred interaction. Therefore, the purpose of her study is to investigate the effectiveness of applying emotional recognition systems, namely facial expression analysis, towards exploring different learning outcomes. The study also focuses on the effects of different attributes of anthropomorphism as part of emotional design in multimedia.
Dr. Mageswaran A/L Sanmugam won the FRGS grant for his project "Redesigning player traits in a gamified learning environment using minimax and maximin principle". The purpose of his study is to redefine the understanding of player traits involved in learning in a gamified environment and summarize it to the essential elements needed in identifying the intention, motivation of a user in a gamified learning environment using the principle of minimax and maximin. This research will hopefully pave a path into understanding game theory and its implementation in education among tertiary students in Malaysia.
FRGS win has once again signified the contribution of PTPM in innovation for the nation.