"COMMITMENT", 'WISDOM' AND 'JUDGEMENT' IN ONLINE TEACHING AND LEARNING – CONFERENCE KEYNOTE SPEECH BY PTPM DIRECTOR, PROFESSOR DR. WAN AHMAD JAAFAR WAN YAHAYA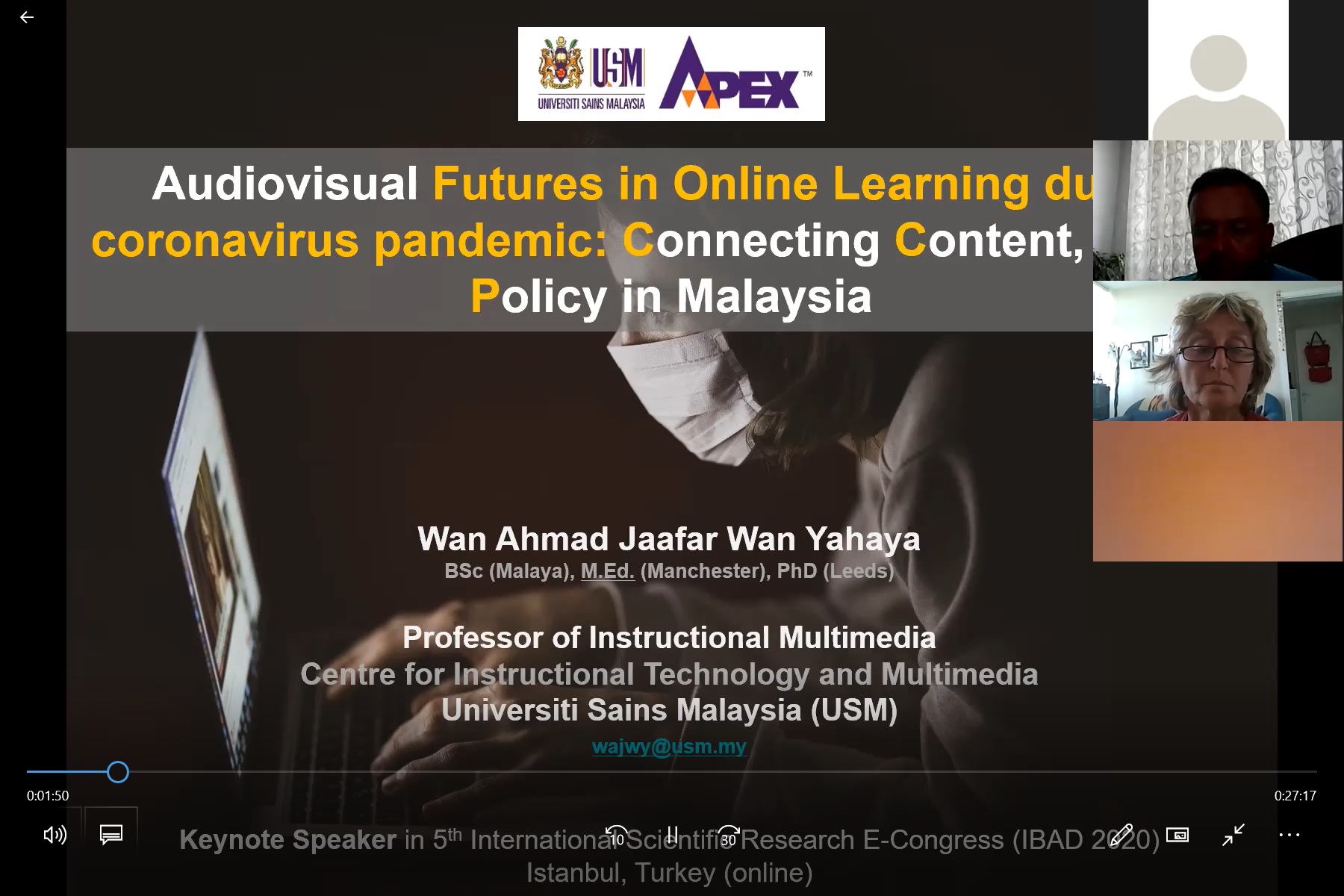 USM, 1st September 2020 – Professor Dr. Wan Ahmad Jaafar Wan Yahaya, Director of Centre for Instructional Technology and Multimedia (CITM), had addressed a conference as Keynote Speaker at the 5th International Scientific Research E-Congress (IBAD2020) on how the audio-visual digital media and instructional design can be on education during Coronavirus pandemic. IBAD2020 conference was organised by International Scientific Research Association & Journal (IBAD) of Turkey at Istanbul, Turkey on 1 and 2 September 2020.
The topic Professor Dr. Wan Ahmad Jaafar delivered was "Audio-visual Futures in Online Learning during Coronavirus pandemic: Connecting content, technology and policy in Malaysia". In an address on a conference focusing on the current issues, trends, statistical methodologies, best practices, statistical design, analysis and conclusion in sciences research, Professor Dr. Wan Ahmad Jaafar said, "The coronavirus pandemic gave schools and universities no choice but to rethink teaching activity radically." Professor Dr. Wan Ahmad Jaafar highlighted the changing nature of delivery in teaching and learning. "My positivity on the steps taken by the Malaysian government, such as recognizing the burgeoning 'creative-audio-visual-tech' sector, built around innovations like virtual and augmented reality, 5G, and 3D printing as a means to keep innovation strong." He reiterated, "However, it is the 'commitment' to education, and the 'wisdom' and 'judgement' that develops from it, will determine the eventual successes and failures of the twenty-first-century learners and generation during the coronavirus pandemic situation."
Associate Professor Dr. Adriatik Derjaj from Tiran University, Albania had also addressed his speeches in the conference. IBAD Journal is the international, non-governmental, and non-profit research association and journal. It was established in 2015 in Istanbul, Turkey to support and perform researches, studies, publications and meetings related to humanities and social sciences internationally. The conference was attended by more than 250 participants from the world. A total of 225 papers, accepted for presentation by peer review, were presented at parallel sessions throughout the day. All sessions were followed by lively interactions.