USM PTPM CHOSEN AS EARLY RECIPIENT OF GTWHI'S CULTURAL HERITAGE BOOK SET
PENANG, 2 July 2020 – Universiti Sains Malaysia (USM) Centre for Instructional Technology and Multimedia (Pusat Teknologi Pengajaran dan Multimedia, PTPM), was among the first educational institutions selected to receive the Cultural Heritage Book set from the George Town World Heritage Incorporated (GTWHI).
Dr. Tan Yun Yi, who is also a lecturer at PTPM had applied for The Cultural Heritage Book Giveaway 2020 programme to enrich university students' knowledge on local heritage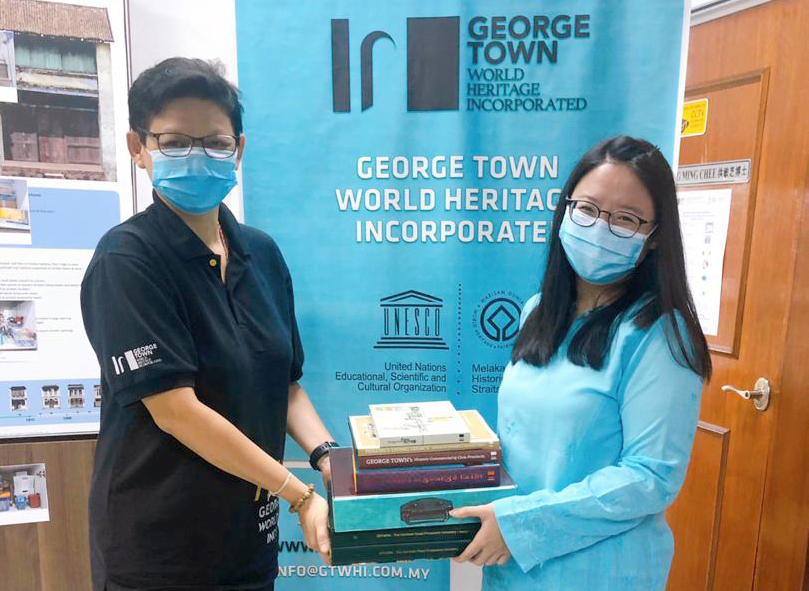 Dr. Tan Yun Yi (right) receiving the book set from Dr. Ang Ming Chee (left), General Manager of GTWHI
"It is also anticipated that the book set would spark their research interest in leveraging emerging technologies for cultural heritage learning and conservation.
"We also hope to raise awareness on Penang's diverse and multicultural communities, traditions, practices, and festive events which are the intangible cultural heritage of Penang especially among the students," she added.
The Cultural Heritage Book Giveaway 2020 programme was launched in March 2020, in conjunction with GTWHI's 10th anniversary and has received overwhelming responses from educational institutions across Malaysia.
A total of 100 book sets, each consisting of six titles, will be awarded to eligible primary and secondary schools, colleges and universities in Malaysia.
The book set is worth RM723 and consists of the following titles:
Epitaph: The Northam Road Protestant Cemetery (Volumes 1 and 2)
George Town: Our Stories
George Town's Historic Commercial and Civic Precincts
Little India of George Town
Penang's Living Legacy – Heritage Traders of George Town
POTEHI – Glove Puppet Theatre of Penang
The Director of PTPM, Professor Dr. Wan Ahmad Jaafar Wan Yahaya, expressed his heartfelt thanks and appreciation to GTWHI for the generous award.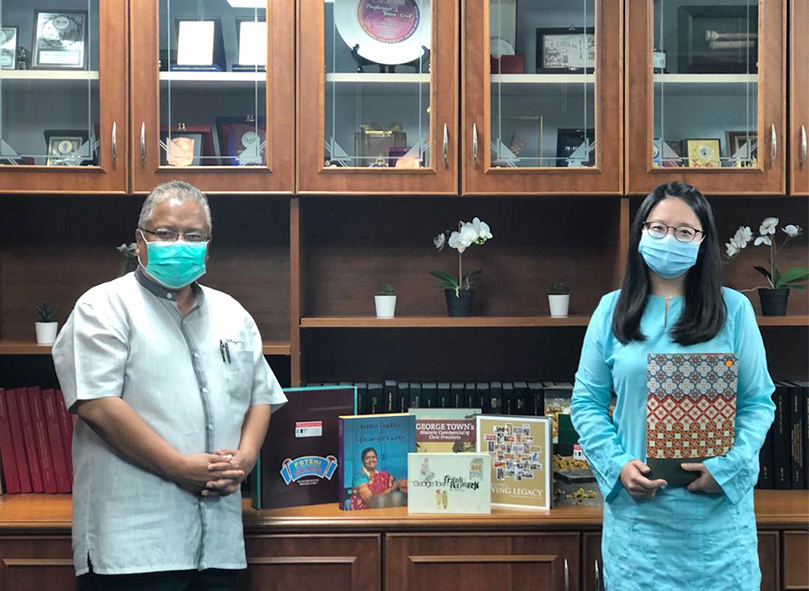 Professor Dr Wan Ahmad Jaafar Wan Yahaya (left) and the Cultural Heritage Book Set
"The book set will be placed in PTPM's Research Library for the benefit of students and lecturers, and we hope that this initiative would not only help to educate students on cultural heritage, but also to instil appreciation among the younger generation towards our shared cultural heritage and the importance of safeguarding efforts," he said.
For more enquiries on the book set, please contact Dr. Tan at This email address is being protected from spambots. You need JavaScript enabled to view it..
This July 7 marks George Town's 12th anniversary being accorded the status as a United Nations Educational, Scientific and Cultural Organisation (Unesco) World Heritage Site.
Text & photo: Dr. Tan Yun Yi & PTPM / Editing: Tan Ewe Hoe